Staff
JoAnne Anton
Director of Charitable Giving for Herb Kohl Philanthropies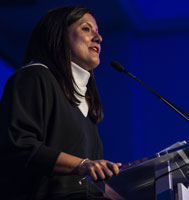 JoAnne Anton Director of Charitable Giving for Herb Kohl Philanthropies, works to advance Herb Kohl's philanthropic goals and community involvement. With a bachelor's degree from Marquette University and a master's degree from University of Wisconsin-Milwaukee's School of Social Welfare, Anton began her career in public service at City Hall as an assistant to former Milwaukee Mayor John Norquist. She has since spent more than two decades working in key positions for (retired) U.S. Senator Herb Kohl.
As Kohl's State Director in the U.S. Senate for 18 years, Anton served in a variety of roles from managing the Wisconsin staff in five state offices to regularly traveling and staffing the Senator throughout Wisconsin. She was also responsible for Senator Kohl's re-election campaigns in 2000 and 2006.
When Kohl retired from the Senate in 2012 and returned as President to run his NBA basketball franchise, the Milwaukee Bucks, Anton joined the Buck's leadership team. There she assisted in the effort to plan for a new sports arena and ultimately, in the sale of the team.
Today, Anton focuses her efforts on helping Herb Kohl continue his legacy of service through philanthropy.
JoAnne Anton currently serves on the boards of Safe and Sound Inc, Harbor District Inc, and the Rotary Club of Milwaukee. She recently completed terms on boards of the Milwaukee Public Library, Professional Dimensions, the Nature Conservancy of Wisconsin and the Walkers Point Association. JoAnne has been recognized by the Business Journal's 40 Under 40 List and as a Woman of Influence.