Learning Journeys — Wisconsin Young People Go to Washington DC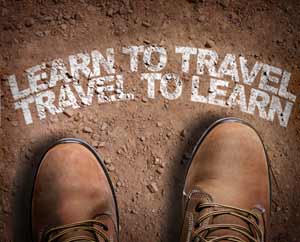 There's nothing more impactful than connecting classroom instruction with real-world learning opportunities. During his 24 years in the U.S. Senate, Herb Kohl welcomed Wisconsin students to Washington DC and witnessed their curiosity and commitment to learning about our nation's capital, the center of American government and history.
Today, Herb Kohl Philanthropies is committed to supporting organizations that provide access to students who might not otherwise have the opportunity to experience and learn about our civics and democracy through the power of travel with a front-row seat.
Herb Kohl Philanthropies funds Learning Journeys run by separate sponsoring organizations that give Milwaukee youth the opportunity to visit Washington DC and gain the invaluable experience of travel, personal responsibility and leadership development. Students learn information that can be applied in the classroom and skills that help them develop individually.
Learning Journeys are customized experiences designed to fit the age and schedule of interested participants. Three intervals throughout the year, Fall, Spring and Summer are available for groups to select for their trip. All costs related to travel, lodging, trip materials, meals/snacks and exhibits, including chaperones, for the duration of the trip are covered under the Learning Journey experience.
When appropriate, college tours and/or visits are also worked into the travel itinerary.
Please take the following information into consideration before applying:
Only schools or youth-serving organizations that are qualified 501c3 non-profit entities may apply.
Schools/Organizations serving students who live in high concentration area of poverty and who qualify for free and/or reduced lunch are given priority.
The DC Learning Journey is intended to augment specific curriculum and classroom learning and when applicable, reinforce leadership development. Therefore, sponsoring organizations should establish specific curriculum/classroom work and/or leadership development progression, and explain how those activities will be implemented, before a learning journey is scheduled.
We screen for duplication: for example, students who have already participated in a Kohl Philanthropies sponsored learning journey to Washington DC through their school will not be eligible to participate in a second (Kohl Philanthropies sponsored) learning journey through a youth serving organization (and vice versus).
For maximum effect and efficiency, the minimum number in a sponsoring organization's traveling group is typically 45 people. The number of chaperones depends upon the age(s) of participating students and experience of the group traveling.
Click on the links below to see sample itineraries.
Organizations/schools interested in having a learning journey supported for their youth will be able to apply here.